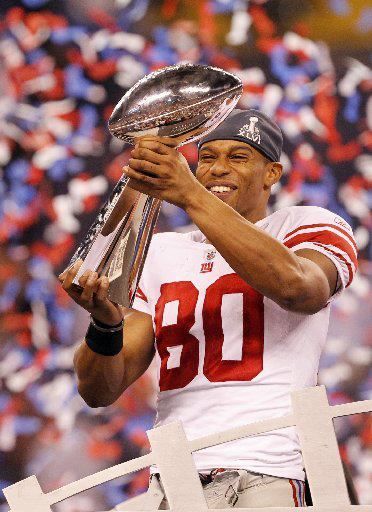 Stapleton: Victor Cruz on top of the world after big win
Tuesday February 7, 2012, 12:17 AM
By ART STAPLETON
INDIANAPOLIS – When the questions stopped, Victor Cruz stood up from behind the microphone, descended the steps to the floor and again got lost in the celebration.
He embraced his mother, Blanca, resting his forehead on hers as the two whispered back and forth, a son and his biggest fan attempting to steal a private moment as the Giants celebrated their Super Bowl XLVI victory over the Patriots.
A smiling Elaina Watley watched with tears in her eyes from a few feet away late Sunday night inside Lucas Oil Stadium, admiring the way her biggest client – also the father of their 4-week-old daughter, Kennedy – delivered on a promise made by two North Jersey childhood sweethearts shortly after their chance meeting at a party a decade ago.
"We are living the American dream right now," Watley said. "This is a complete joy and it's everything we talked about wanting to do when we first got together 10 years ago.
"The day Victor and I first met, I told him, 'Look I want to be in sports publicity. I want to be an agent. I want to do deals,' and he said, 'I want to be an NFL player.'
"People used to laugh at us. But you know, I think we're a testament to dreams really coming true. We sit down every day and we highlight what our goals are. One of our goals was to have a family and we have Kennedy now. One of his goals was to win a Super Bowl and he has that now."
She paused before adding with another smile: "And we've done it together."
( a fucking love story. )
New Jersey people
They will suprise you
Cause they're not expected
To do too much

They will try harder
They may go further
Cause they never think
That they are good enough

I'm from New Jersey
I don't expect too much
If the world ended today
I would adjust
I would adjust
I would adjust
-- John Gorko - I'm From New Jersey