ravensgurl211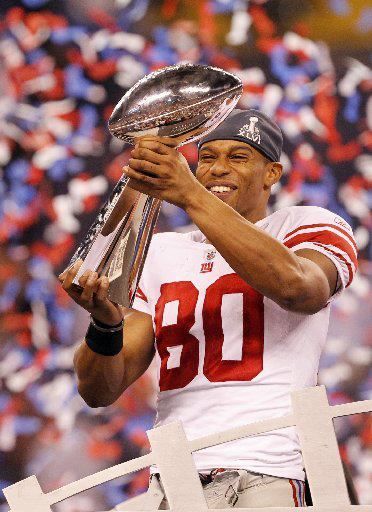 Stapleton: Victor Cruz on top of the world after big win
Tuesday February 7, 2012, 12:17 AM
By ART STAPLETON
INDIANAPOLIS – When the questions stopped, Victor Cruz stood up from behind the microphone, descended the steps to the floor and again got lost in the celebration.
He embraced his mother, Blanca, resting his forehead on hers as the two whispered back and forth, a son and his biggest fan attempting to steal a private moment as the Giants celebrated their Super Bowl XLVI victory over the Patriots.
A smiling Elaina Watley watched with tears in her eyes from a few feet away late Sunday night inside Lucas Oil Stadium, admiring the way her biggest client – also the father of their 4-week-old daughter, Kennedy – delivered on a promise made by two North Jersey childhood sweethearts shortly after their chance meeting at a party a decade ago.
"We are living the American dream right now," Watley said. "This is a complete joy and it's everything we talked about wanting to do when we first got together 10 years ago.
"The day Victor and I first met, I told him, 'Look I want to be in sports publicity. I want to be an agent. I want to do deals,' and he said, 'I want to be an NFL player.'
"People used to laugh at us. But you know, I think we're a testament to dreams really coming true. We sit down every day and we highlight what our goals are. One of our goals was to have a family and we have Kennedy now. One of his goals was to win a Super Bowl and he has that now."
She paused before adding with another smile: "And we've done it together."
When Cruz juggled and held on to Super Bowl MVP Eli Manning's lone touchdown pass of the game in the first quarter, a significant part of the crowd of 68,658 quickly serenaded him with what has become a familiar chant of the Paterson native's last name.
The rallying cry of "Cruuuuz" landed on exclusive T-shirts sold at Modell's, a deal brokered of course by the Englewood-born Watley, the CEO of Brand Infinite, an entertainment and sports public relations and marketing agency she started in 2009.
Following the first touchdown of his postseason career, Cruz, 25, broke out what has become his calling card: his "Silk City Salsa," inspired by his Puerto Rican roots and the dance taught to him by his grandmother as a child.
Just when it seems his popularity reaches its peak, the undrafted free agent out of UMass turned record-setting wide receiver for the Giants finds a way to up the ante.
Two days after Cruz danced with Grammy-nominated artist Ciara on Super Bowl media day, Madonna declared herself a fan, imitated his salsa moves on stage during a nationally televised news conference.
His jersey finished the season as the 13th most popular in terms of sales in the NFL, second on the Giants behind only Manning .
"I dreamed of this moment. I dreamed of this time. I dreamed of being here," Cruz said. "I couldn't ask for anything more, man. This is the best feeling of my life. I want to catch some confetti; I want to bring it home."
At this point, Watley has represented home for Cruz for so long.
She weighs possible endorsement opportunities and encouraged the creation of his fashion brand Young Whales, born from an idea shared with former teammate Nate Collins during training camp with the Giants in the summer of 2010.
Watley was responsible for brokering Cruz's deal with iconic marketing giant IMG Worldwide, which announced the partnership Monday.
"I've put together every deal for him, from Steiner [Sports] to IMG, to his Nike deal, to his car deals, to his appearances," said Watley, beaming with pride. "I think we set high goals for ourselves, and there are always more goals to set and reach.
"You've just got to keep going, and I believe for Victor this is only the beginning."
Watley graduated from high school at 16, and she earned a finance degree at Florida International University while also doing an internship on Wall Street.
Cruz repeatedly has called Watley "my backbone," and although there are no imminent marriage plans, he hinted to The Record shortly after Kennedy's birth last month that an engagement could be in the offing if and when their lives start quieting down a bit.
The Giants struck gold with Cruz, and with what he has shown in production and personality, there's plenty of reason to believe he is poised to do the same.
Cruz has one more year remaining on a three-year, $1.22 million contract with the Giants and would become a restricted free agent following the 2012 season, provided he and the team's front office do not negotiate a new deal as part of a more lucrative extension.
"There was a time when we were down. Real down," Watley said. "We didn't know if we could make it, but we kept fighting, kept pushing.
"We never gave up and now we feel like we are on top of the world."
As a starry-eyed football couple promised a decade earlier, Cruz and Watley have gotten there by sticking together.
Email: stapleton@northjersey.com
New Jersey people
They will suprise you
Cause they're not expected
To do too much

They will try harder
They may go further
Cause they never think
That they are good enough

I'm from New Jersey
I don't expect too much
If the world ended today
I would adjust
I would adjust
I would adjust
-- John Gorko - I'm From New Jersey